1 Review
raiting star
raiting star
raiting star
raiting star
raiting star
A must have. Not just for inflating tyres but bike, football and it's a phone charger too!!
raiting star
raiting star
raiting star
raiting star
raiting star
8000mAh Car Air Compressor 12V portable tyre inflator and portable power bank
Item Type Air Compressor
Item Weight 0.6kg
Model Name CQB-106
Voltage 12V
Material Type ABS
Product Name Electric inflatable pump
Battery Capacity 8000mAh
Output Voltage 5V / 1.5A
Charging method Type-C universal
Electrical air pump
 Tyre pressure pump
Air compressor pump
Highest PSI 150Psi
Multi use: Use it as a power bank and emergency light
Warranty: 1 year

Larger battery capacity, 8000mAh

More portable and wireless style

More usage scenarios, 2.5Bar cars and 3.5Bar trucks

More intelligent, with 2 LED digital display screens, you can observe real-time tire pressure and present tyre pressure values at the same time, without worrying about overcharging
Whether you're inflating car tyres, footballs, airbeds, paddling pools, bicycles or inflatables at the beach, this is the inflator for you. Powered by a 12V battery, you can inflate anywhere! With a digital, easy-to-read pressure gauge you can set the PSI. The inflator will automatically stop when it reaches the desired pressure. So, whether it's a football at 8 PSI or a van tyre at 120 PSI, it won't go pop!
The battery can be charged from the comfort of your home with the included mains adaptor. Or if the battery is getting low, the inflator can also be powered directly from your in-car cigarette lighter socket with the included power cable.
Also included are the adaptors for pumping up footballs and airbeds. With the handy LED light, you can see what you're inflating in the dark, essential if you have a flat tyre at night.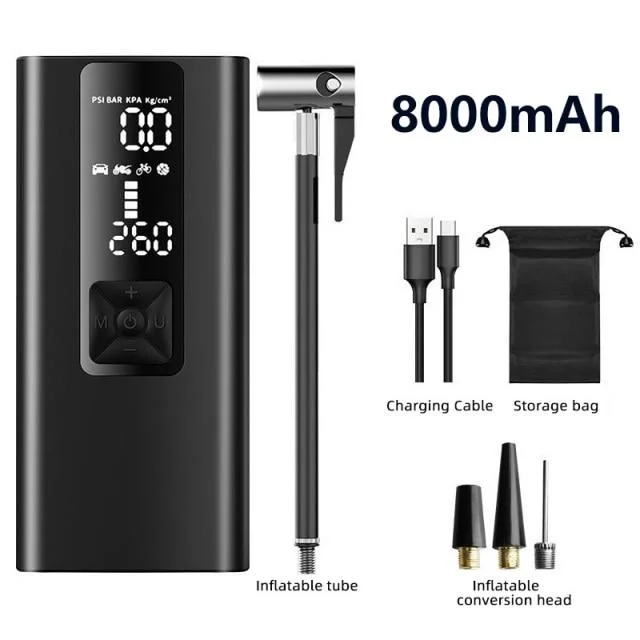 $0.00
$69.83
Delivery Charges to be calculated during the checkout
Recommend this product
8000mAh Car Air Compressor 12V portable tyre inflator and portable power bank