0 Reviews
raiting star
raiting star
raiting star
raiting star
raiting star
Be the first to review this product.
Tesla Model Y/ S/ 3/ X Door Puddle Light 2 / 4 PCS LED Car Door Logo Projector Light T Logo With Letters
Item Type Welcome / Puddle Light
Item Name Led Car Door Logo Light
Material LED + PP
Wattage 8W
Voltage 12V
Waterproof Rate IP68
Used In 4 Car Door
Installation Method Plug-N-Play
Suitable Car For Tesla Model Y 3 S X
Package Included 2 / 4 Pieces
Model No. 11049-55
 [Composition of Lamp Head] High-transmittance three-layer combination lamp, High light transmission, low energy consumption; A higher-quality laser-etched projection glass (not printed film) for clarity and longevity will be brighter and never fade.
[Benefits of Installation] After getting off your Tesla, Puddle Light T logo can let the owner see the walking path and avoid obstacles. Open the door of the projection, immediately show your charm, attract more attention, and get praise from friends.
International products have separate terms, are sold from abroad and may differ from local products, including fit, age ratings, and language of product, labelling or instructions.
Installation Instructions:
Use A Flathead Screwdriver to Remove and Disconnect Original Door Step Lights
Plug in New Door Lights with Correspondent Connector
Put new Door Lights to The Spot Where Your Original Lights Were
Done! Logo Should Be Projected on The Ground
Notice: Rear door is not applicable if the original rear door light is slanted, no problem at the front door
Package Included:
2 x Projection Door Lights (Left & Right)
4 x Projection Door Lights ( All 4 doors)
Free Delivery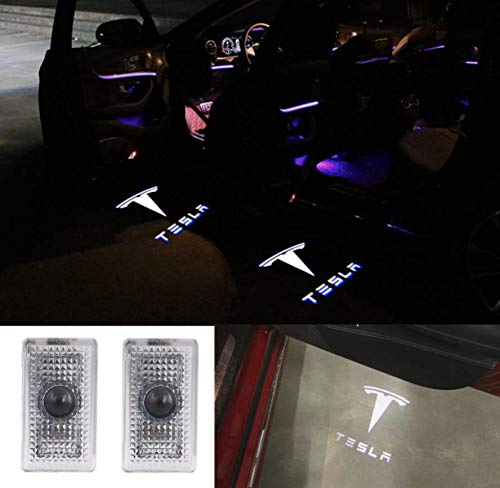 View video
$0.00
$31.06
Delivery Charges to be calculated during the checkout
Recommend this product
Tesla Model Y/ S/ 3/ X Door Puddle Light 2 / 4 PCS LED Car Door Logo Projector Light T Logo With Letters