Tesla Model 3 | Model Y 2018-2022 Auto Rear Bumper Foot Plate Trunk Door Sill Guard Protector Cover Car Rear Trunk / Boot Sill Cover
1 Review
raiting star
raiting star
raiting star
raiting star
raiting star
Julia
Really good accessory and customer service. Brilliant stuff
raiting star
raiting star
raiting star
raiting star
raiting star
Tesla Model 3 | Model Y 2018-2022 Auto Rear Bumper Foot Plate Trunk Door Sill Guard Protector Cover Car Rear Trunk / Boot Sill Cover
| | |
| --- | --- |
| MODEL NAME | for Tesla Model Y / Model 3 |
| EXTERNAL TESTING CERTIFICATION | CE |
| ITEM LENGTH | 43.5cm |
| MATERIAL TYPE | stainless steel - Chrome / Titanium Polished |
| ITEM TYPE | Interior Mouldings |
| ITEM WEIGHT | 0.5kg |
| ITEM WIDTH | 5cm |
| YEAR | 2018, 2019, 2020, 2021, 2022 |
About this item
Fit your Tesla. - The boot sill protector has been specially cut for the Tesla Model Y and Model 3

Tesla Model Y and Model 3 Accessories: The rear bumper protector can protect your rear bumper when loading and unloading luggage, food, toolbox, etc. It prevents unsightly scratches, scuffs, nicks, scratches and other damage as well as anti-slip function. It can also be used to cover existing scratches and paint damage.

HIGH QUALITY MATERIAL: The bumper protector / chrome trim insert is made of high quality stainless steel (never rustproof). The polished stainless steel finish enhances the appearance of your vehicle.

Easy installation: 2 x trunk bumper guards and 1 x frunk bumper guards. Easy to install, just peel off the 3M adhesive and stick it in the right place. No tools required.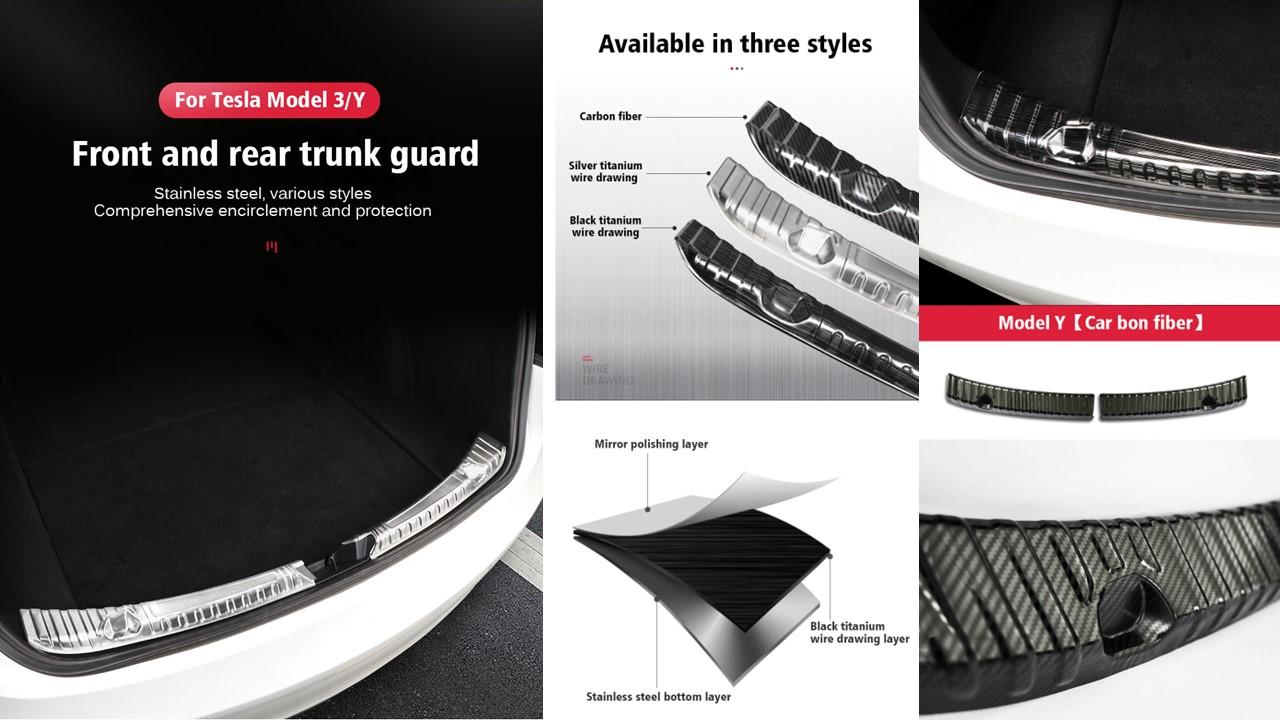 $0.00
$43.70
Delivery Charges to be calculated during the checkout
Recommend this product
Tesla Model 3 | Model Y 2018-2022 Auto Rear Bumper Foot Plate Trunk Door Sill Guard Protector Cover Car Rear Trunk / Boot Sill Cover
1 Review
raiting star
raiting star
raiting star
raiting star
raiting star
Julia
Really good accessory and customer service. Brilliant stuff
raiting star
raiting star
raiting star
raiting star
raiting star