FAQs
FAQ's
At kwikdeals.co.uk we are committed to making your shopping experience safe, easy, quick and convenient. That's why we have put together these answers to the most frequently asked questions our customers have, so that you can shop with confidence.

Ordering

What communication will I receive after placing my order?
Once you have completed your order you will receive the following communication:

On Screen Order Summary – We recommend you print this summary for your records.
Order Confirmation email – We have received your order.
Order Acknowledgement email – We have received your order and that it is currently being processed. Payment is taken at this point after security checks have been made.
Order Update email – This alerts you to an update with your order, eg, it has been dispatched. Please click here to view our order status descriptions:
Can I change my order?
Once you have submitted your order we are unable to amend it.

How do I cancel my order?
To cancel your orders please contact our Online Customer Service Team within an hour on cancellations@kwikdeals.co.uk. Please be aware that we are unable to cancel your order after the 1 hour window has passed. Please refer to our Returns & Refunds section for further details.

The item I ordered is now out of stock. Why was it on the website?
All items are subject to availability. Generally, if an item is showing on our website then it is available to order. However, during busy periods we may be in a position where we cannot supply an item or there may be an unexpected delay in dispatch. If this is the case, we will let you know as soon as possible.

Why has my payment been refused?
For details on why your card was refused, please contact your card issuer.

PAYMENT

What payment options do you accept?

We accept the following methods of payment:
Google Pay
PayPal
Apple Pay
American Express
Maestro/|Switch
Mastercard
Visa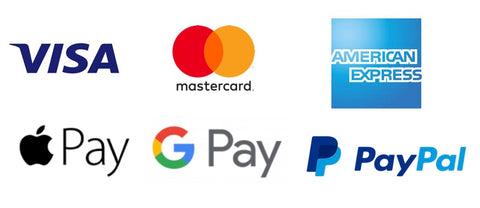 What is Payment Authentication?
Verified by Visa (VbV) and MasterCard® Secure Code (MSC) often referred to as 3-D Secure or Payment Authentication, are the latest fraud prevention initiatives launched by the card schemes as a more secure method for authenticating the cardholder at the time of the transaction. Both schemes work in the same way by using personal passwords, set by you the cardholder, to add an extra layer of protection when you shop online. The instructions that you see on the pages within our site are coming direct from your card issuing bank (eg, Halifax, Barclays, HSBC, Sainsbury's etc) and any information that you submit on these authentication screens are securely passed to your card issuing bank, no information will be captured, stored or viewed on any of our website system.

PRIVACY & SECURITY

Is it safe to shop on kwikdeals.co.uk?
At kwikdeals.co.uk server software encrypts all information you input before it is sent to us.
Full details of how we protect the information you provide us are given below:
As an additional security measure, credit card numbers are encrypted both before an order is processed and no financial details such as card number, date of birth are not collected or stored by our website or in our database.
We guarantee to comply with the standards, procedures and requirements laid down in the UK Data Protection Acts 1984, 1998, 2018 (GDPR) to ensure that your personal information is kept secure and processed fairly and lawfully,
To check the security of our website, simply look in the lower bar of your browser when you fill in your payment details. You will see an unbroken key or closed lock, showing that encryption is active and your information is secure. For security reasons, we cannot accept credit card numbers by standard email but only over the phone.

How will you use the information I send you?
We use the information you provide us in the following ways:
To administer your account, and to disclose your details to our third party service providers for the purpose of processing your order.
And, from time to time, to inform you by post, email or other available means of products, services, promotions and special offers from us.
Do you disclose information to third parties?
We will only pass on your details to third parties, who may contact you for marketing purposes by mail or email, or research agencies, with your prior approval.

What are cookies?
Cookies are small pieces of information that are stored by your browser on your computer's hard drive. We use cookies for the following reasons:
To ensure that items are placed into your Shopping Basket and orders are processed correctly.
To identify you as you travel around our site.
To provide site usage information which, together with purchase information, will further help us improve and develop the products and services we offer.
Please refer to our cookie policy for more details
Please note:
No recognisable personal information is stored in the cookie that can link it back to an individual.
You will need to ensure your cookies are enabled which will allow you to register your details and to purchase from our site.
DELIVERY
Do you deliver to BFPO addresses (British Forces Postal Office)
No, Unfortunately we do not offer a delivery service to British Forces Post Office (BFPO). We apologise for the inconvenience.
When will my order be delivered?
We aim to deliver all your orders with in 5 working days in usual circumstances
Are there any UK addresses where delivery might take longer?
Yes, certain areas such as Scottish Highlands and Islands, Isle of Man, Channel Islands and Northern Ireland may take longer.
How will my order be delivered?
We will select the most appropriate carrier for your goods to ensure your order is delivered in the best possible way.
What happens if I am out when you deliver?
If you are not available to accept delivery the Royal mail or courier (if the chosen delivery method is courier) will leave a card to advise that delivery has been attempted. To rearrange delivery, please follow the instructions on the card.
Can I change my delivery address?
No, you can only change your delivery address at the time you are placing your order. Once you have submitted your order we are unable to amend the address.
What if I only receive part of my order?
Some orders for multiple items may be divided into separate parcels which may be delivered at different times. Please contact our Online Customer Services Team on info@kwikdeals.co.uk if you have not received your order within the delivery times stated.
The product I ordered has arrived damaged what should I do?
Please contact our Online Customer Services Team on info@kwikdeals.co.uk and explain that the order you received is damaged. We will then arrange for a replacement order to be processed for you.
I have been delivered the wrong product, what should I do?
We are sorry that we sent you the wrong product please contact our Online Customer Services Team on info@kwikdeals.co.uk and explain to one of our members that you have received the wrong product. The member will arrange for a replacement order to be processed for you.
To return the product simply pack the goods into their original packaging, enclosing the completed returns form, and follow the instructions on the returns form; or refer to our Returns & Refunds information.
Can I select more than one delivery address per order?
No. Unfortunately, we cannot do this unless you break down your orders in to several different orders. Contact our sales team on info@kwikdeals.co.uk for any help.
Please note: P&P is charged per delivery address.
How do I track my parcel?
You can track most items on your order by checking the parcel reference number which will be on your order update email or simply log in to my account in our website. If there is no reference number and you have not received your order within the delivery times stated, please email our Customer Service Team on info@kwikdeals.co.uk
MANAGING 'MY Account'
What is My Account?
My Details is a personalised data bank that records and stores your information for use each time you shop. By registering My Details your shopping experience with us is made quicker and easier as you only have to enter your details once and they will be remembered next time you shop. Once you are registered, you can sign up for emails and be the first to hear about all our great offers, new products, special promotions and exciting events.
What information will be stored?
Information stored within your account will be your home address, your email address and your contact numbers. All the information stored within your account can be accessed and changed by you at any time.
Will my personal information be saved securely?
Yes, all the information you provide is protected using the latest encryption software. Whenever you access your account you will be asked for your password. In the event that you forget your password, we'll email you a new one that you must use to login. Once you have logged in you will be prompted to change it to something you can remember. For additional peace of mind, you can change your password as often you wish.
Do I need to be registered to shop with kwikdeals.co.uk?
No, To prevent fraud and to enable us to keep you updated with your order, we strongly recommend you to be registered to shop online, when and if you do you'll find that it makes shopping online with us easier and faster. I have forgotten my password, how can I request a new one? Simply click on Login/Register at the top of the page, click Forgotten Your Password and enter your Login ID email in the box provided. We will automatically email you your new password to your registered email address with us. Once you have logged in with your new password you will be prompted to change it to something more memorable.
How do I change my password?
To change your password, click on Login at the top of the page, enter the email address that you registered with, click on Change Password, fill in the box provided and click Update.
Can I change information that is stored in My Account?
Yes, to change any information stored in My Details, login and click on the area that you wish to change and amend accordingly. Once you have finished, click Update and always remember to logout so others cannot access your personal data. Logout closes My Details, but still allows you to browse the site.
Please note: If you amend your email address your Login ID remains unchanged. Please continue to log in with your original email address. Future correspondence will however be sent to your new email address.
CONTACT US
At kwikdeals.co.uk we value your opinion so if you have any comments or suggestions, we are always happy to hear from you.